I would like to share information about a great little book that was recommended to me. It is called Dahlias: A Little Book of Flowers by Tara Austen Weaver.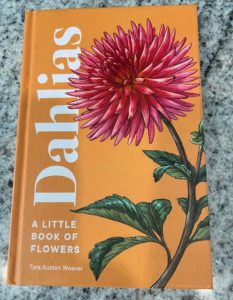 The book contains brief easy to read descriptions of the several forms of the dahlia. Included are line drawn sketches of the many forms including single, cactus, ball, informal decorative, collarette, anemone, peony, formal decorative, orchid and waterlily. Also included are beautiful coloured illustrations by Emily Poole of varieties of Dahlias representing each of the forms.
Weaver gives us succinct easy to read information about origin of the species, care of dahlias including planting, storage, pests and diseases.
Equally understandable information about harvesting, showing and displaying dahlias is also included.
Weaver also provides information about places you might want to go to view dahlias. Most of the places she mentions are in the US, however, she does list one location in Mission British Columbia.
At the end of the book, Weaver provides a list of resources that you may find helpful.
Weaver, Tara Austen, Dahlias: A Little Book of Flowers. Sasquatch Books, Seattle WA. 2022
Remember to shop local. Reach out to your neighbourhood independent book store to order this book for you.
authored by Carol Anderson